Bistro style mosaic stained glass tables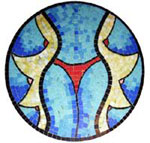 Title: Sensation
Diam. 27.56 inch
Material: pieces of colorful glass
Completely hand crafted.

Top quality grout and waterproofing

Vado artist makes every table to order and cuts every piece of stained glass by hand

Did you now?..
.

The earliest known mosaics date from the 8th century BC and are made of pebbles, a technique refined by Greek craftsmen in the 5th century. Pebbles of uniform size, ranging in color from white to black, were collected and used uncut to form floor and pavement mosaics.
The mosaic is the bistro set its most charming. The decorative combination of the bistro chair's elegant design with the colorful arrangement of stained glass or colored tile on the bistro tabletop permits the most imaginative and eclectic decor combinations. A mosaic bistro set will add grace and beauty to any dining room, patio, or place of business.
All our tables are built using only the highest quality materials available and are weather resistant so you can use our mosaic tables outdoors as well as indoors, by the pool, in your bar, on the patio, on your balcony or any where else your heart desires
We can make any of our designs you see on our site into the mosaic stained glass table of your dreams, or, if you have your own design in mind, we can make that for you too. Contact us For a quote.