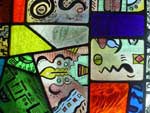 As the name reveals, the main element of this art is the glass and the objects made using it are dated from three thousand years before Christ, in Babylon and Egypt, and it has been brought to the west by the Romans. Since then this kind of art has never stopped.

Nowadays this art continuous to be marvelous. Vado, a prestigious artist, makes wonderful masterpieces on stained glasses, which principle is to turn ordinary object into colorful and capricious pieces of art. However, this work depends on many techniques that demands concentration, geometric calculation and, of course, a lot of creativity.

His method is based on different types of harmonious compositions, such as steel, special glasses, lead, brass and semi-precious stones and the final result causes a great impact. Besides that, the stained glasses have two or three dimensions and may be designed for domestic or commercial use.

Vado gives the importance of knowing how the window was made, the extent and causes of any deterioration, the needs and interests of the window's owner, how research should proceed, and finally, conservation technique.

Currently, the stained glass is an expression of beauty and sophistication in houses with a wide variety and unnumbered internal or external applications. The modern technology allowed the creation of stained glasses on sculptures that preserve all the beauty, colors and mainly the translucent characteristic of the pieces.